100 Thieves fans are outraged with the reveal of the Numbers Collection which will be released February 29th.
February 24th, 100 Thieves revealed the first seasonal clothing drop of the year with the new Numbers Collection along with their first ever pop-up shop at the brand new 100 Thieves Cash App Compound which was showcased earlier this year in a YouTube video on the 100 Thieves YouTube channel.
With the reveal of the collection, fans were very quick to call out 100 Thieves for the designs being "too basic", with one fan going as far as recreating the design in Adobe Photoshop. Many Content Creators/Streamers also questioned the collection, such as DrDisRespect, G2 Pengu, TSM Merc and more.
Jackson Dahl so far has been the only member of 100 Thieves who has responded publicly to a fan, saying: "I think it's some of the most wearable product we've made and the collection fits together so well. Has only grown on me more and more since I saw the very first draft of the collection. Sorry you're not a fan this time."
Nadeshot also uploaded a video on February 26th where he gives some more insight on the direction behind the newest collection. In the video, he explains that this collection is one of the most important in 100 Thieves history. Nadeshot also mentions he has read the feedback that was heavily expressed by fans of 100 Thieves. Nadeshot also reveals that the collection is the "most comfortable" and "most premium in terms quality" that 100 Thieves has created in the last 2 years. Here is the full collection below.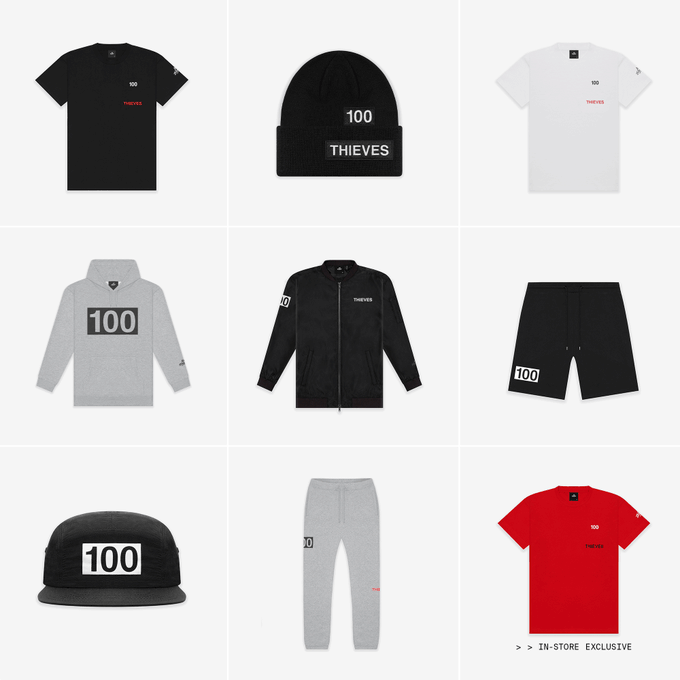 Nadeshot further explains that 100 Thieves has an entire year of seasonal clothing drops planned out, and the numbers collection was what he decided to release first which he's proud of. He also reassures fans of 100 Thieves that it's "okay if they don't like the concept of the numbers collection as style is subjective."
Let us know your thoughts on the 100 Thieves Numbers Collection. Also, make sure to follow Gamezo on Twitter for the latest updates and here for the latest esports news in full.