Lithuanian coach Laurynas 'Nbs' Kisielius joined Raise Your Edge Gaming in January of this year, joining a brand new project from scratch in the hopes of rising up to the top of European VALORANT. Two months later, the team would transition to Acend, with Mark 'Krimson' Senior becoming their manager.
This last week, this same line-up would exceed all expectations and win VCT: Masters 1 to claim the title of the best team on European soil, in a dream run that saw them overthrow some of the most prestigious teams in Europe.
As Acend prepare the start of Stage 2 of the VALORANT Champions Tour circuit, we had a chance to sit down with Nbs, and to discuss their run at VCT: Masters 1, the development and structure of Acend, six-player rosters and the future of VALORANT as a game and as an esport.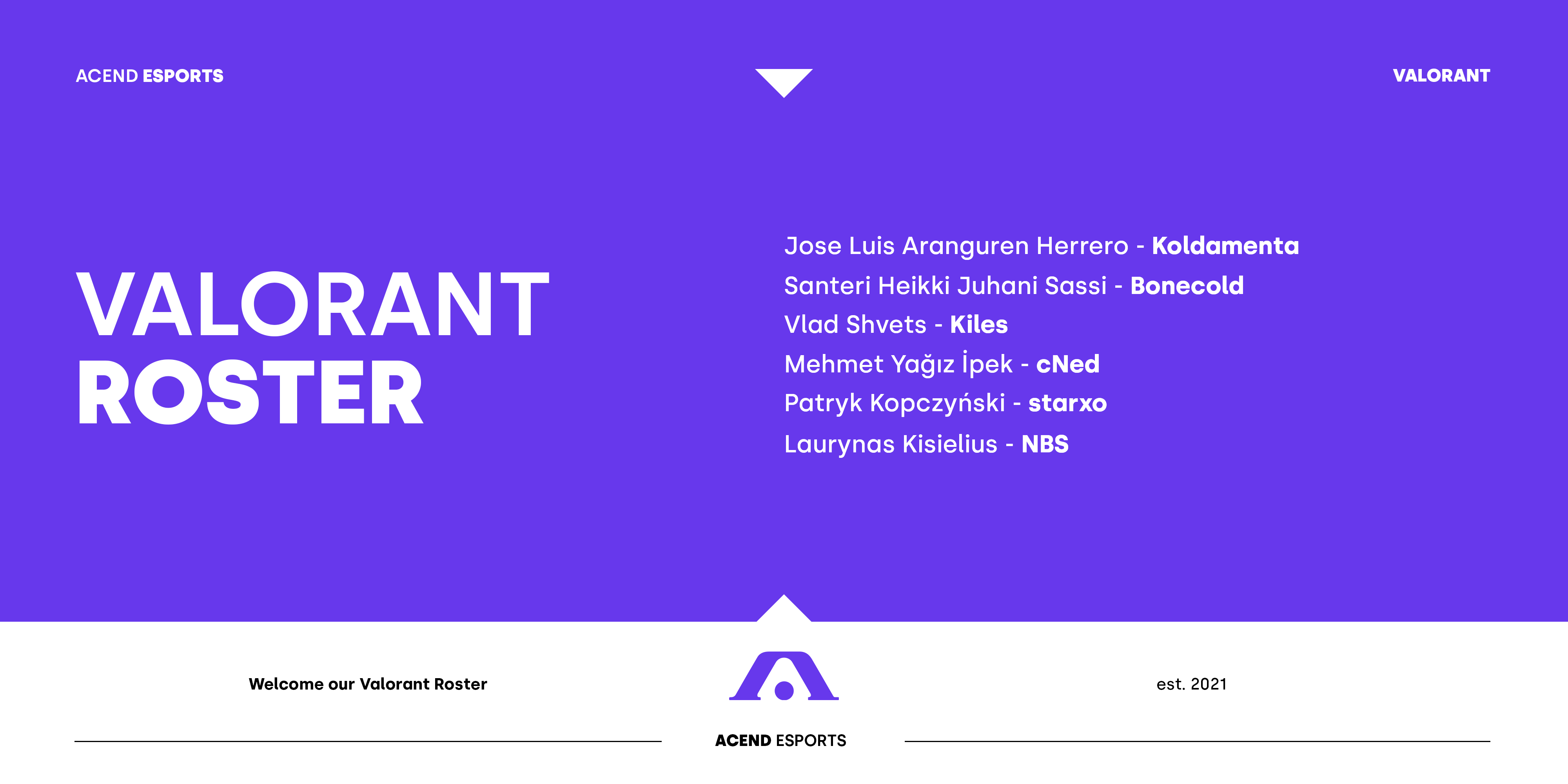 This roster has only been together for two months. How do you prepare to take on the best teams in Europe with so little time?
We do our homework when playing against any team. It doesn't matter how good or known they are, as long as there is data that we can get our hands-on, we prepare as hard as we can. It was pretty rough during the playoff stage of Masters since between every match we only had 1 day to prep. The preparation process is pretty basic, we watch vods, we analyze how our opponents play and we try to come up with stuff that should work well against them. There's no magic there, really.
Did the decider match victory against Ninjas in Pyjamas boost up the confidence of the team? Drive us through the mindset of Acend during the playoffs going up against clear favourites such as FunPlus Phoenix and Heretics?
Our mindset was good. I think we have a very good mentality going into the games, our mental coach was definitely a huge help to us, especially since we are a new team and we did have our problems at the start, just like everyone else does. Even though FPX were the favourites, we knew that we can beat them. We were close to taking a map from them last time we met on officials and we knew that we have improved a lot since then. We see both FPX and Heretics as being equally good, so after we beat FPX, we knew that beating Heretics is going to be just as hard but also possible.
Heretics is one of the many organisations at the top of competitive VALORANT to feature a sixth-man roster. How do you see these extended rosters and could you see Acend adding an extra player?
I think extended rosters are fine, it's not a necessity though, not yet, at least. Maybe in the future, when there will be many more agents in the game, it will be more popular. Me and our team in general are pretty open-minded about most of the things: we like to try, test and change things a lot. We're not thinking about adding an extra player in the near future, but who knows, maybe down the road we will toy with the idea.
You have been with Mehmet 'cNed' İpek since his time at nolpenki. What do you think his Jett brings to the server and how do you compare him to other notable Jett players in the region?
cNed is the best Jett in Europe.
Despite the current situation with international tournaments, do you see demos and try to implement and learn from squads based in other regions of the world? Do you have any preferred teams?
We do keep a track of the world scene, mostly watching North American and Korean games. Sometimes we try some of the things we see in other regions, but usually, we don't just blindly copy, but instead take the idea and change it in a way that suits our game style. My prefered teams in those regions are Vision Strikers, 100 Thieves and Sentinels.
Are you looking forward to seeing how these different styles clash against your team when the time comes to gather all these international teams on a LAN?
It's always super exciting when different regions clash in the first LAN event of a brand new game, you never really know what to expect but it always delivers with the most entertaining and wild games.
You have a long career as an esports player, spanning across multiple titles such as Starcraft 2, League of Legends and PUBG. It was towards the end of your stint in PUBG that you first took in the coaching role, how would you say that these experiences translated to VALORANT?
I did some coaching previously in League of Legends, but it was nothing too serious, just some local teams. So I did have a rough idea of what I am getting into once I switched from playing PUBG to coaching. I think overall, just general esports experience helps me a lot.
I've been through hot and cold, rough and soft, I've seen a lot of teams and players succeed and fail. I was very excited when I got offered a head-coach position in Acend and that, for the first time in my life, I could actually build a team with my own vision in mind.
Given that you and the Acend In-Game Leader Jose 'koldamenta' Herrero come from the same PUBG background, do you think that has an impact on how both of you "see" the game?
In PUBG one of the most important things in the top-level was good macro and information gathering/using that information. These things definitely translate over to VALORANT.
Lithuania has produced a number of talents playing at the top of European VALORANT. Do you believe we could ever see a full Lithuanian roster competing at the high level later down the road?
Nolpenki showed it during early summer, Alltherage showed it during early autumn. It's definitely possible, even if it's not beneficial for the career of those players since organizations are not that interested in a full Lithuanian squad.
It's hard to market around it, it's hard to attract fans from other countries and it's hard to be locally sustainable as esports are currently not that big in Lithuania. It's getting more and more recognition, so maybe in a couple more years, it will be more plausible.
Riot has been nurturing the VALORANT esports scene, developing a number of circuits before the most recent 2021 VALORANT Champions Tour. What changes would you like to see in VALORANT esports?
Community streams in Europe would be great. More streams for the earlier stages at tournaments in the European scene would also be great, as we only get streamed games in the late stages of the tournament, but if there are upsets – and there's quite a few of them usually – in earlier stages, nobody can actually witness them live on stream.
Esports coaches have always been subject to a number of struggles that barge them from doing their job, with games failing to provide systems that allow them to easily review the performance of their team. Have you found any of these problems in VALORANT and what changes would you like to see on the game?
Yes, we do have these problems as well, but I don't care too much about it just yet. The game is new, it hasn't even been a year. I'm 100% sure that Riot is doing their best and that all of these features will come with a little bit more time. I'm a patient man, I can wait.
Meanwhile, we're getting by with the current conditions, after all – it is the same for everyone. Most important change for me right now is coaching slot and it's been rumored to come quite soon, so I'm definitely looking forward to this addition.
Enjoy this piece? Don't forget to share our work with the buttons below. Also, be sure to follow us
on Twitter to get the latest gaming news straight to your feed.