After a great first Major, the CDL 2021 Stage 2 groups have been set in stone.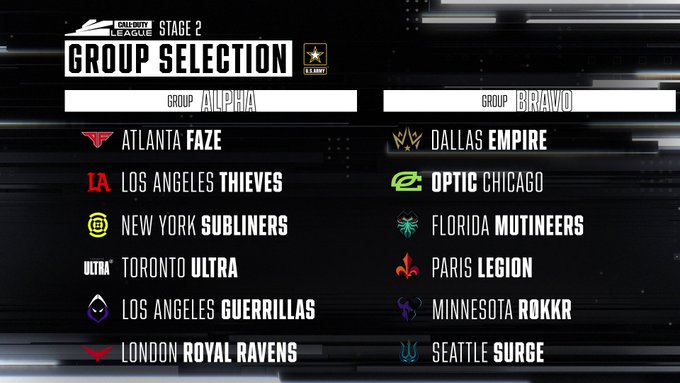 Group Alpha consists of the Atlanta Faze, Los Angeles Thieves, New York Subliners, Toronto Ultra, Los Angeles Guerrillas, and the London Royal Ravens
Group Alpha appears to be one in which Atlanta FaZe will dominate once again. After a strong finish to the last major, they are the strong favourites to come out on top of the group at the end of the second stage.
Group Alpha's second place seems like it is going to be a fight between the New York Subliners, and the Los Angeles Thieves. The New York Subliners are looking to impress the rest of the league as they did at the previous major when they swept Optic Chicago. While the Los Angeles Thieves will want to make up for their disappointing 5th-6th place finish at the first major.
Meanwhile, Group Bravo consists of the Dallas Empire, Optic Chicago, Florida Mutineers, Paris Legion, Minnesota Rokkr, and the Seattle Surge.
Group Bravo looks extremely competitive as the Dallas Empire, and Optic Chicago is both looking to comeback after disappointing finishes at the first major. Both of which have rosters capable of taking the top seed in the group
In addition to this, the third spot of Group Bravo looks to be extremely competitive. As Optic Chicago and the Dallas Empire are both going to be favourites for the top two, the Florida Mutineers, Paris Legion, and the Minnesota Rokkr all have a chance for third in the group.
CDL 2021 Stage 2 starts on March 18th with the Toronto Ultra Home Series, and will run until the week of April 5th with the start of the second major
Enjoy this piece? Don't forget to share our work with the buttons below. Also, be sure to follow us on Twitter to get the latest gaming news straight to your feed.