If you are a fan of the Developer Focus Home (or Robin Hood in general), you woke up today to a nice treat with the new Hood: Outlaws & Legends Trailer. The French publisher has created countless titles such as Warhammer Age of Sigmar: Storm Ground, GreedFall, Necromunda: Underhive Wars, A Plague Tale: Innocence, World War Z, Fear the Wolves and many more.
This multiplayer heist game is set in a medieval setting and is officially launching on Monday, May 10th, 2021 for the PC, PS4/5, Xbox One, and Xbox Series X|S. If you are looking to pre-order Hood: Outlaw & Legends, you better act quick as today is the last day.
Developer Roadmap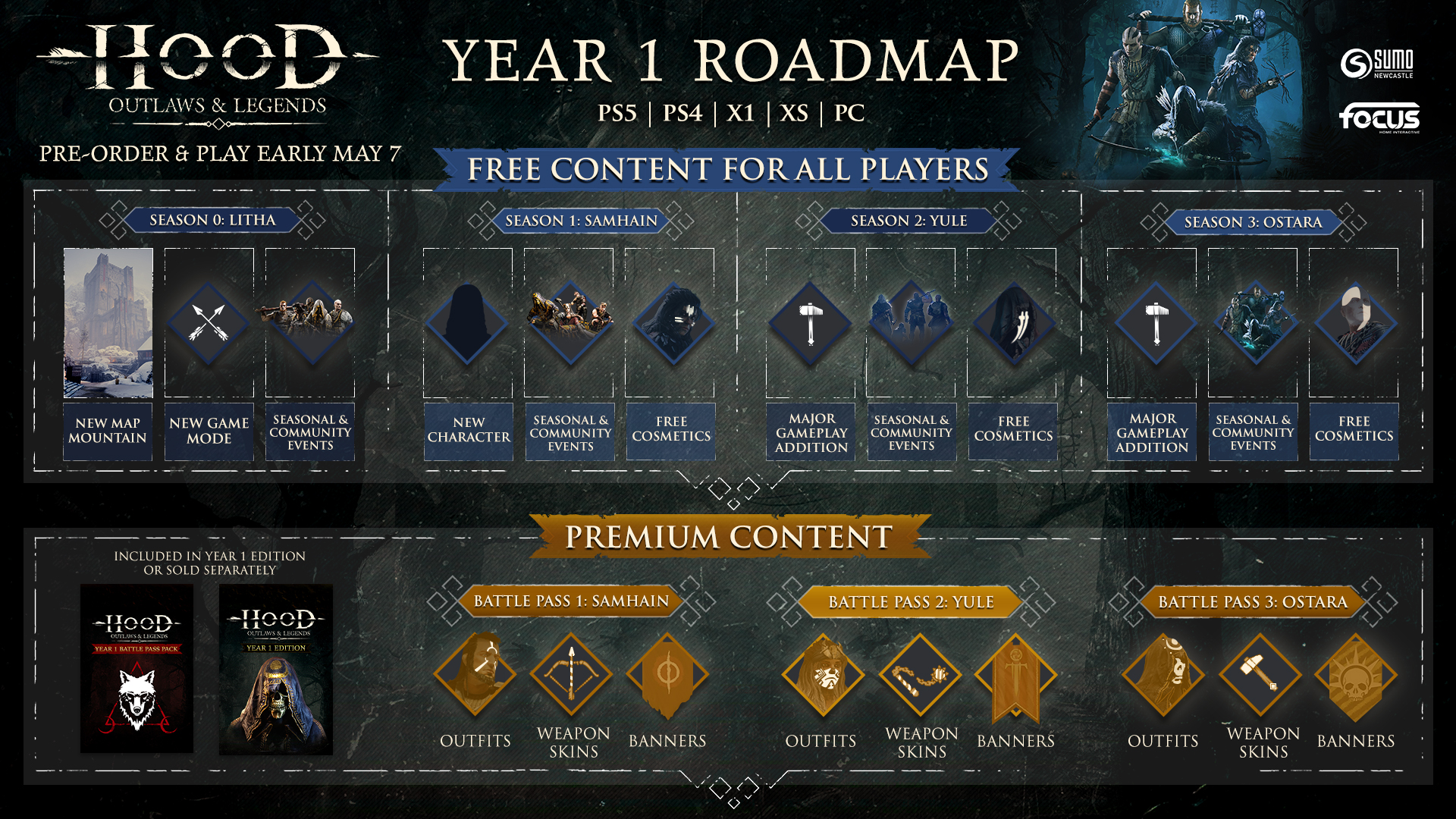 What is Hood: Outlaws & Legends?
In this innovative new game, you must help a kingdom that is oppressed by a dictator by taking up your weapons and fighting in team-based, tactical battles. You need to use your logic and reasoning along with brute strength to locate, extract and infiltrate riches that are protected by the enemy military.
In between each heist, you can return back to your secret hideout. Give the money back to the people in Robin hood fashion and browse the shops for new items to assist you in your journey. As you progress, you will also unlock weapons, natural skills, abilities, costumes and perks.
In a violent, medieval world, outplay rival gangs in intense PvPvE multiplayer heists. Moving in stealth to steal treasures unseen or dominating through loud and brutal combat, only the best will escape with hard-earned riches.

Quote from the developer Focus-Home
Character Classes
The Ranger – The sniper class that uses a longbow and has a wide range of specialty arrows.
The Hunter – A burst fire ranged damage dealer that uses stealth, quick takedowns, magic, invisibility and a crossbow.
the Brawler – Deadly at close quarters combat and uses a sledgehammer to demolish his enemies, sometimes ina single blow.
The Mystic – As an outcast of society, the mystic employes trickery and magic to detect and destroy his enemies.
Hood: Outlaw & Legends Cinematic Trailer
We are looking forward to playing this on May 7th and if the game is as good as the cinematic, we are in for a real treat!