After the end of the last super week, in which the last places for the next stage were secured, we can finally focus on the real main point of the competition: the LEC Playoffs!
You can read below which teams have reached the last stage of the competition, the format in which they will compete and most importantly when the showdown for the best European team of Spring Split 2021 will take place.
LEC Playoffs Teams
The teams who secured their spot in the next stage are:
– G2 Esports
– Rogue
– Mad Lions
– SK Gaming
– Fnatic
– Schalke
All Playoff matches will take place in the LEC studio after a year of online competitions due to the COVID-19 pandemic security measures.
LEC Playoffs Format
The structure of the playoffs will be a double-elimination bracket with each match played to the best of 5. Since the seedings have already been given, the pairing of the teams for the matches has already been made.
During the first round of the playoffs, the teams will be matched as follows: (Upper bracket) G2 vs Schalke; Rogue vs Mad Lions; (Lower Bracket) Fnatic vs SK Gaming.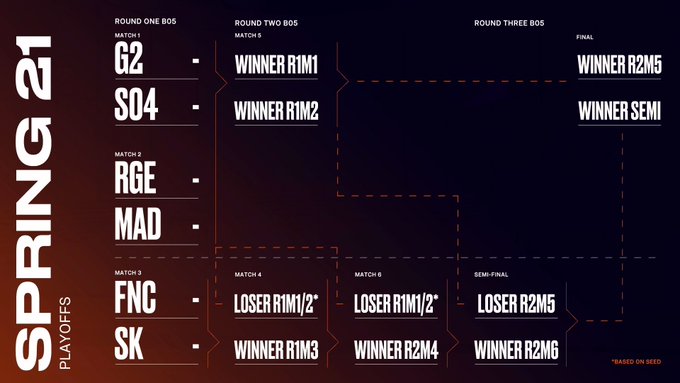 Playoffs Schedule
Starting from the 26th of March the competition for the Top Team in Europe will get into full swing! Here's the schedule for the first round of the LEC Spring 2021 Playoffs!
Friday, 26th of March, 18:00 CET – Fnatic vs SK Gaming
Saturday, 27th of March, 17:00 CET – G2 vs Schalke
Sunday, 28th of March, 17:00 CET – Rogue vs Mad Lions
The playoff tournament will determine which one of these six teams represent Europe at MSI in Reykjavík. Even though G2 is the favourite to snatch once again the win, nothing is ever guaranteed in the final stage of the LEC Spring Split!
Enjoy this piece? Don't forget to share our work with the buttons below. Also, be sure to follow us
on Twitter to get the latest gaming news straight to your feed.