I'm sure this question has been on all of your minds ever since you first dove into the Marioverse; "Hmm…I wonder who would win in a Mario vs a normal plumber fight."
Well, everyone, you're lucky I'm here. I spent a few work shifts thinking of this wholly necessary and scientifically accurate thought experiment. Let's explore Mario vs Ted.
I named the plumber Ted.
Laying the groundwork
Let's set some ground rules before we dig into such a controversial and commonly discussed topic. For the sake of my sanity, let's call this theoretical plumber "Ted".
The abilities of each fighter are those that would would have in their normal setting, i.e Mario in the Mushroom Kingdom and Ted on our Earth. More importantly, our Earth in which the Mario games exist, because that's our Earth.
No speculation on which moves a fighter WOULD use, only discussion of what they COULD do.
Ted has kids and several college funds, so no matter what I'm not going to kill him off.
What we know
We have to acknowledge what we know about both Mario and Ted Sarkeesian (my Ted lore is ever-expanding) before we can move on.
Mario
Mario's canonical height is 5'1″ while full-sized, and 2'6.5″ when short. He weighs 198 lbs, and can (non-canonically) jump 14.1 feet at maximum (calculated by FoxMcCloud- on Reddit). While very powerful with certain items such as the Fire Flower, Tanooki Suit, etc, it's shown in various Mario games that without said power-ups, all he can do is be a somewhat skilled amateur gymnast. He can jump, kick, dive, punch, wall kick, and somehow defy physics and ground pound.
Ted Sarkeesian
I'm going to use the average statistics for a human male for Ted, because he's a very average man. He stands at 5'9″ and weights 197 lbs. He works full time, self employed at Ted's Pipe n' Tank Service, and specializes in septic tank maintenance and installation.
He owns various tools that assist and allow him to complete his plumbing tasks, i.e heavy wrenches, gas masks, and his work truck. None of this is relevant past his height, I just like writing superfluous back stories.
Shared powers
Of course, I bet most of you would read this article's title and immediately say 'Mario would win, he can throw fire, fly, and jump around in a giant shoe.' Well, there is more to it than that.
In almost EVERY Mario game, Mario isn't the only one who can be affected by the power-ups. Luigi, Toad, and even Peach have shown that they too will grow larger if they come in contact with an appropriate shroom, or gain the ability to throw fireballs if they wield the Fire Flower, etc.
And the fact that everything else in the Mario universe can use these powers up, shown in every Mario Kart game, along with every Super Smash Brothers, it wouldn't be too much of a stretch to say that Ted wouldn't be able to use them too.
If you know anything about math, you know that if a value appears on both sides of the equation, then it cancels out and goes away, so we're not going to be discussing the various power-ups from the Marioverse (save for the Mushroom, you'll see why). That would be like discussing…Mario vs Luigi, or Mario vs Peach.
Of course, this is assuming that said mushrooms and flowers were those native to the Mushroom kingdom. If Mario tried to eat a mushroom from Earth, he'd either be a little bit less hungry or go on one heck of a ride through space and time.
Doing some math
Considering Mario's base form is his ittle bitty, adorable 2'6.5″ tall version, that means that his 5'1″ form is an upgrade given by the Mushroom item. Growing from 2'6.5″ to 5'1″ is a growth rate of 194%.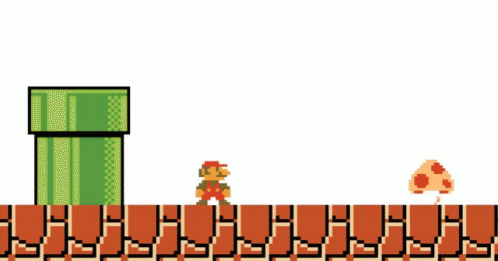 Ted, if given the same mushroom and the same growth rate, would grow from 5'9″ to 9'1″. That's a big plumber.
Mario, however, can jump 14.1 feet. At 14.1 feet, it would take just about 0.9 seconds to fall to the ground, and at 198 pounds he would produce just over 8000 Newtons of force. In order to snap a human neck, you only need about 1000 Newtons of force, so his jump is the definition of deadly to Ted.
But wait…if Ted grew to 9'1″, then would that still produce enough force to paralyze him for life and force him to use his children's college funds to pay for a live-in nurse a la The Bone Collecter?
MORE MATH, AWW CRA- I MEAN AW YEAH.
If Mario jumped 14.1 feet (169.2 inches) and had to fall on Turbo Ted's head in order to attack him, he'd only fall 60 inches or 5 feet. Punching those numbers into a force calculator means he'd collide with Ted's skull with a force of around 3,500 Newtons. Mario vs Ted's Neck: Winner, Mario.
Meanwhile, Ted grows to 9'1″ and immediately suffer from cardiovascular issues. The tallest man to ever live, Robert Wadlow, grew to an astounding 8'11", and he died from heart problems due to the organ being unable to compensate for such a huge body.
Mario doesn't run across this problem because even after growing super-sized, he's still a normal dude. Ted Sarkeesian, however, would probably have a lot of trouble even moving, let alone fighting.
Point to Mario.
Ted Gets the upper hand
Ted does have something that Mario doesn't (usually); plumbers tools. Wrenches of various sizes, clamps, adhesives, tapes, and a 2011 Ford F-150 he uses for work. Mario would be hard-pressed to outrun a full-sized, combustion engine-powered vehicle in his tiny little kart powered by whimsical Nintendo magic and cooking oil.
Imagine a Ford F-150 barreling down a straight section of a raceway, and you see Ted Sarkeesian throw a speed mushroom into his engine's air intake while cackling maniacally. Mario would be literally flattened into an Italian pancake. That's assuming Ted doesn't just collapse his skull in with one of his wrenches.
Point to Ted.
The tie-breaker
So we're currently at a tie. Mario with a point from his superior ups, and Ted because he has superior tools/weapons.
There is one very esoteric fact that you must consider if you were to theoretically pit these two against each other.
Ted knows who Mario is, while Mario has no clue that Ted, or his world, exists at all. Ted, a man in his late 30's, grew up in the golden age of video games. He grew up jumping on goombas and avoiding hammer thrown by Bowser. He grew up laughing at the inferiority of Luigi.
Mario, while an experienced adventurer in his own right, has no knowledge of our Earth. No one in the Mushroom Kingdom or surrounding lands do. This would give Ted the upper hand, as he would know just how Mario operates, and his weaknesses. He would know that all Mario can do is jump higher than him. That can be exploited.
Point to Ted
Outcome
Surprisingly, our winner is a Normal Plumber, Ted Sarkeesian, with two out of three points. Let this be a lesson to any Mushroom Kingdom miscreant who would consider invading the real world, be it Bowser, or Koopa from that abysmal live-action movie…
Enjoy this piece? Don't forget to share our work with the buttons below. Also, be sure to follow us on Twitter to get the latest gaming news straight to your feed.