After hearing so much about Persona 5 in the past several years, I finally had the opportunity to give it a chance when I saw it on sale for around $15 on the PSN Store a few months ago. Developed by Atlus in 2016, it was a game that highly was anticipated. Years later, the game still holds up.
Persona 5 Royal and Persona 5 Strikers, are two other games that made major headlines during the past two years, which were two games that I wanted to try, however, I wanted to first play the game that kick-started it all. I am also a Joker player in Super Smash Bros Ultimate. Going into this experience, my expectations were extremely high.
The Plot
The protagonist (and who you will be playing as) is named Joker. After being expelled from your old school for actions you did not commit, you are sent to a new school in Tokyo to live with a stranger on a year-long probation. While you are living with this strange man, you are also attending the high school Shujin Academy.
While you are simply a high school student in the day, where you must live the life of a typical teenager. In the night you are the leader of the Phantom Thieves, who enter the mind of corrupted adults, who change their mind by stealing their heart.
The Gameplay
While you are in the day, you live the life of the typical teenager by attending classes, seeing your friends (and love interests), heading to the gym, or even heading to the movies. In the night time, as the leader of the Phantom Thieves you explore handcrafted dungeons, that has an excellent turn-based combat system that allows you to freely express yourself through your personas and the skills they hold.
One impactful feature of this game is the type system. Every in-game day, you are only allocated a certain number of actions that you can perform. Doing a certain number of actions will end that day and put you closer to the in-game deadline that you must defeat the current boss by.
In the day, the interactions that you have impacted your life will change your in-game stats such as knowledge rising when answering a question correctly, or when you read a book. In addition to social activities, you also have twenty confidants that you can spend time with. By developing these relationships and bonds, you can level up your confidant rank, which directly impacts your night time dungeon exploring, granting you skills and abilities that are extremely beneficial.
Since you are on a timed basis, what you choose to do with your time holds much weight and drastically impacts the game in different ways. For example, hanging out with a confidant and levelling up that rank comes at the cost of reading a book which increases your knowledge stats.
In terms of your experience in the day, the dungeons that you will explore in the night are extremely well thought through as they have interesting obstacles that differ from the other. For example, a bank that you can explore has extremely different puzzles when compared to a castle.
Similar to Pokemon, the personas you battle can be "caught" or "captured" in these dungeons and added to your team. Each persona has a different set of skills, abilities, strengths, and weaknesses that can be used. Additionally, another feature that is similar to Pokemon deals with the type system.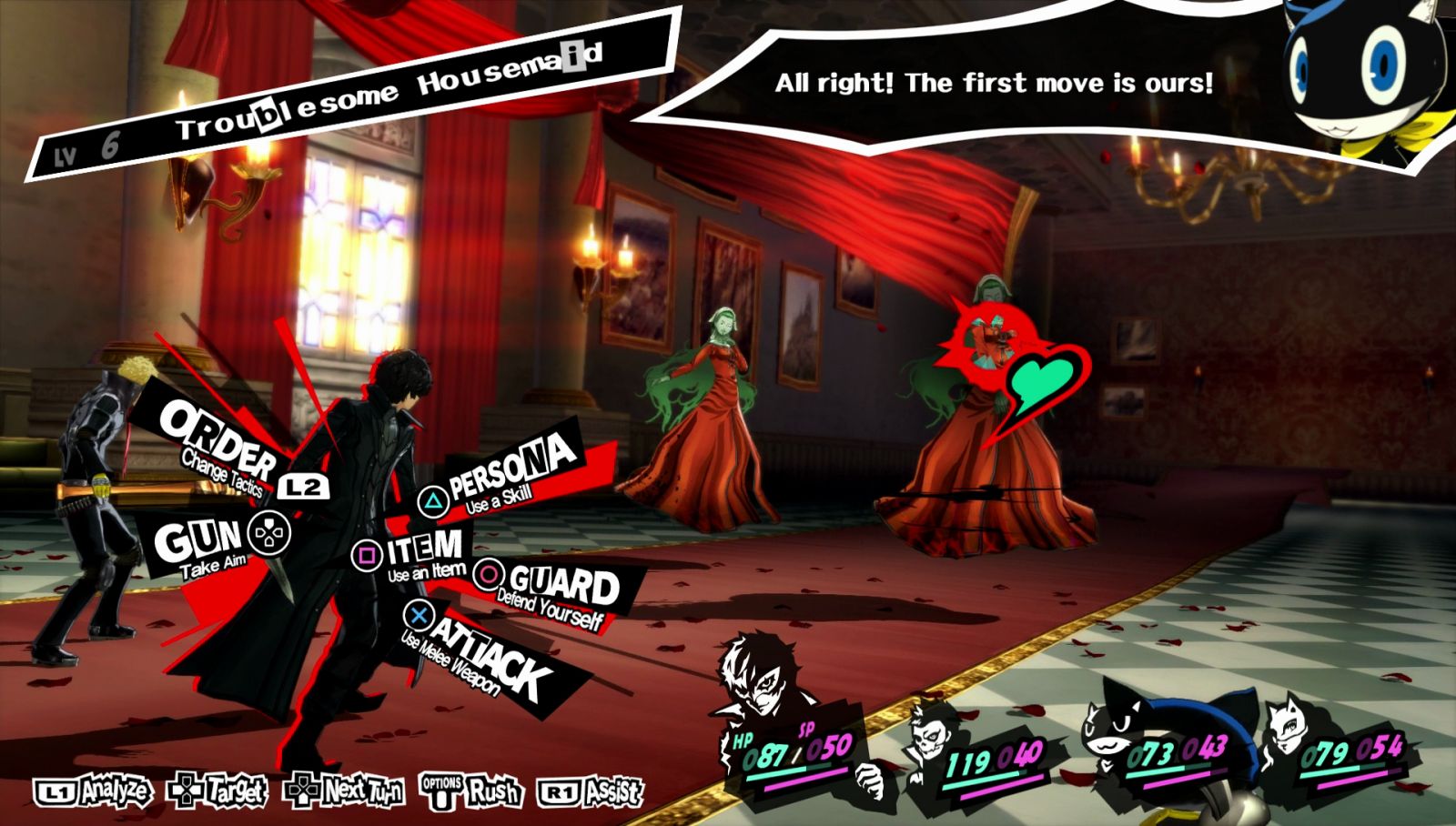 The Graphics
In terms of how the game looks, it is simply gorgeous. Everything is well thought out, bright lights in Tokyo, the mysterious dungeons, and the characters. However, one aspect of the game that deserves more credit is the personas themselves. They are all based on some sort of mythology or character, and designed with a purpose.
In addition to this, the anime-style cut scenes are an absolute delight. It reminds you of the quality that was put into the game and brings more to the story.
The Music
The in-game music in Persona 5 is a delight and has to be praised. The in-game battle music Last Surprise, performed by Lyn is an absolute classic and makes the combat even more delightful. In the overworld, the background music that plays perfectly fits the way everything pans out in-game. The music perfectly fits the pace of whatever gameplay action is occurring.
Conclusion
Persona 5 defiantly did not disappoint and lived up to every aspect of my expectations. It provides one of the best stories in gaming, while also providing you with a lot of freedom and flexibility which allows you to experience the game in your own way. Persona 5 brings forth hundreds of content filled hours, and it holds timeless amounts of re-playability as you can make different choices that will ultimately change your experience.
I will be looking into Persona 5 Royal (which is the definitive version of Persona 5) and the newly released Persona 5 Strikers soon. This game is a must-buy, and for those with a Playstation 5, Persona 5 is available in the PlayStation Plus collection as part of your subscription, therefore it is very accessible. Persona 5 is still a fantastic experience and is defiantly a must play!
Enjoy this piece? Don't forget to share our work with the buttons below. Also, be sure to follow us
on Twitter to get the latest gaming news straight to your feed.