After completing the first half of LCS season, Riot Games has revealed the LCS 2021 Spring Split All-Pro Team. Riot's all-pro team is to celebrate the success of the standout players this season.
Voting is done after the end of week 6 of the LCS season (March 14-16). Those who get votes are third-party media groups, the broadcast team, and the players.
1st LCS All-Pro Team
Top – TL Alphari (141 Points)
Jungle – C9 Blaber (139 Points)
Mid – C9 Perkz (101 Points)
Bot – C9 Zven (100 Points)
Support – TL CoreJJ (109 Points)
2nd LCS All-Pro Team
Top – EG Impact (76 Points)
Jungle – TL Santorin (82 Points)
Mid – TSM PowerOfEvil (87 Points)
Bot – 100 FBI (97 Points)
Support – C9 Vulcan (93 Points)
3rd LCS All-Pro Team
Top – TSM Huni (42 Points)
Jungle – DIG Dardoch (28 Points)
Mid – TL Jensen (68 Points)
Bot – DIG Neo (51 Points)
Support – TSM SwordArt (46 Points)
The first all-pro team is interesting because of how it demonstrates the dominance of Cloud9 this season as they take 3/5 spots. However, it also shows how impactful Alphari IS to Team Liquid as he takes the top lane spot over Impact (who he replaced on Team Liquid).
In terms of supports, CoreJJ's dominance is evidently displayed as he is still seen as the best support, and potentially the best player in the LCS. Followed by Vulcan who is the most talented North American born support in years. Both of which also beat out TSM Swordart, who infamously was signed to a 6 million dollar contract earlier this year.
Cloud9's Blaber's dominance was evident as he was the only player in the league to win multiple (2) player of the week awards. Additionally, he also had the highest player of the game awards (7).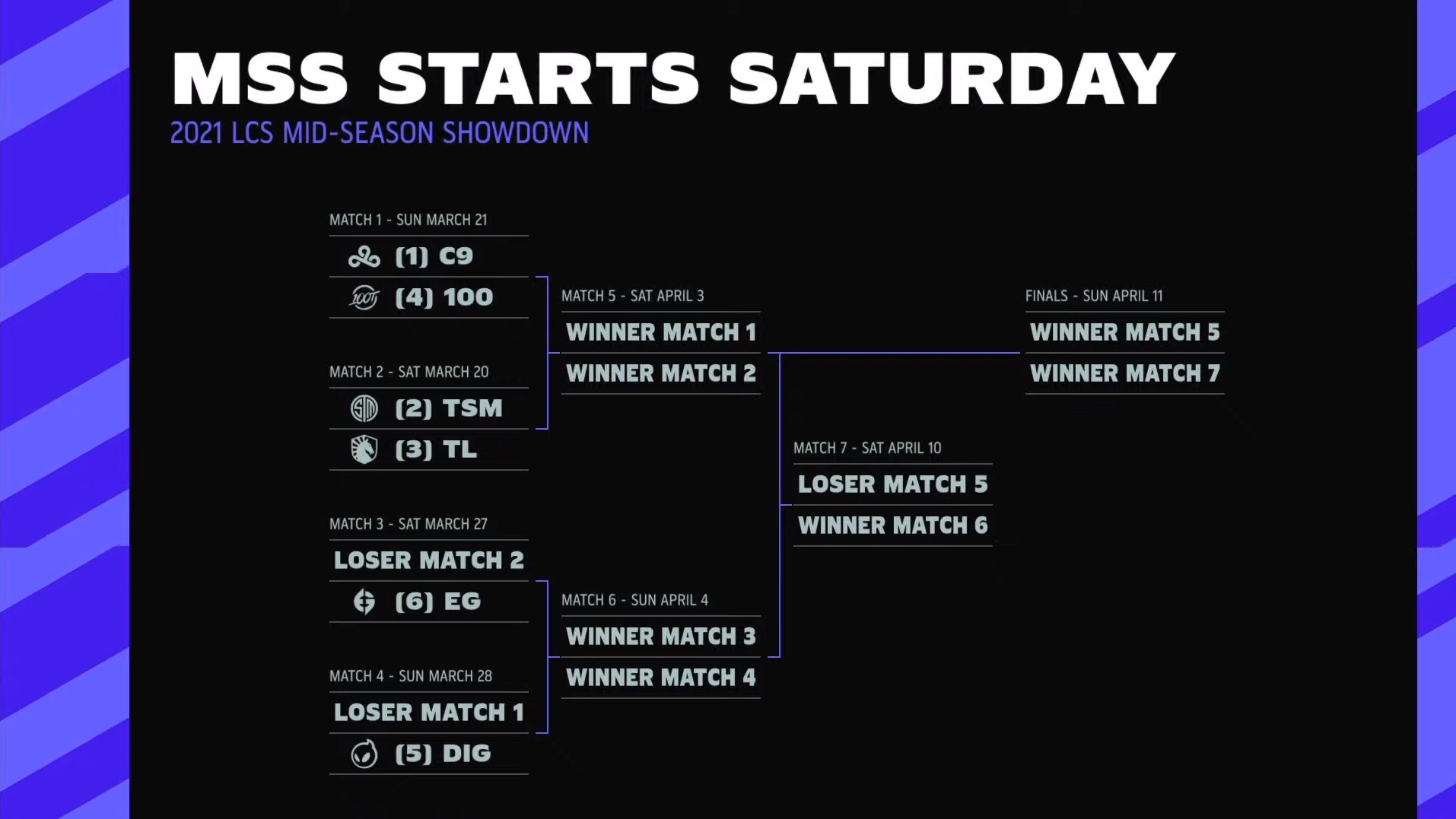 Though the regular season is over, there is still the Mid-Season Showdown, which is meant to replace the spring split playoffs. With the winner of the tournament going to Mid-Season Invitational (MSI), due to the recent format changes to LCS.
Due to the Covid-19 in 2020, MSI was unfortunately cancelled last year. However this year it is taking place in Iceland and is the first international event since the 2020 World Championship.
The second round of the Mid-Season Showdown kicks off today (March 21st 2021) with first-placed Cloud9 and fourth-placed 100 Thieves playing a best of 5 series in the winners bracket.
Enjoy this piece? Don't forget to share our work with the buttons below. Also, be sure to follow us
on Twitter to get the latest gaming news straight to your feed.