Final clash of the day: with this victory, Suning acquire the right to challenge G2 again for first place in Group A of the World Championships, taking away the possibility for Team Liquid to fight for the Knockout Stage.
Draft
G2 side with Renekton in the top for Wunder, Jankos in the jungle with Graves, Ekko for Caps midlane, and Kalista ADC with Senna as her Support botside for Perkz and Mikyx.
Suning draft in response has Camille for Bin top lane, Jarvan for Sofm in the jungle, Angel midlane with Syndra, and duo bot Huanfeng – SwordArt with Ezreal and Bard respectively.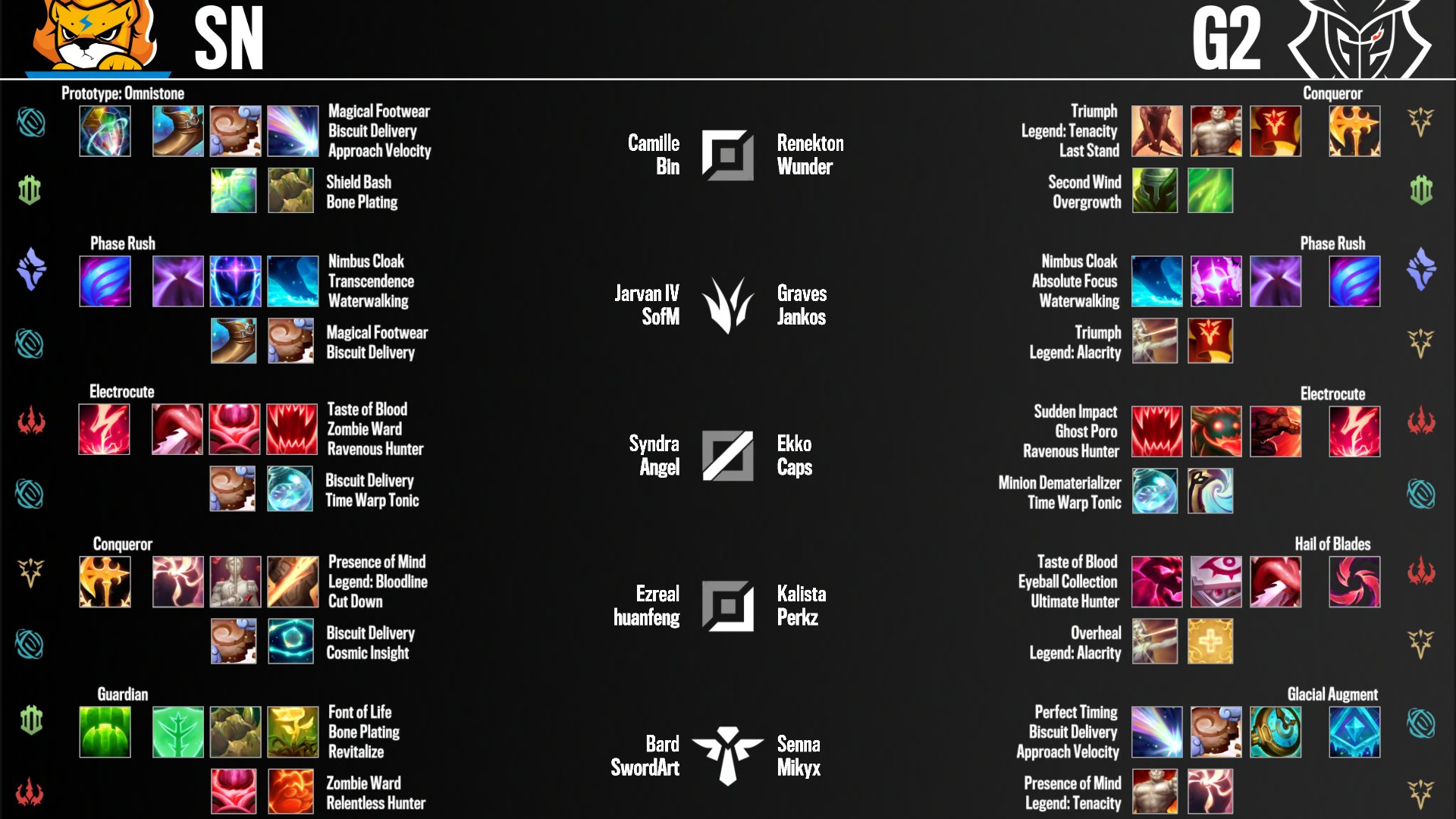 First Blood and Early Game
Late start for both junglers, which means that the solo lanes do not have to worry about an intervention by the opposing jungler in the first minutes of the game.
However, on the bot side of the map, Jankos invades the enemy jungle, is sighted, and heads into bot lane where, together with the other G2 members, he makes a dive under the opposing tower, but in the trade the first to die is Perkz. The fight doesn't stop there: Suning counterattacks, killing Mikyx as well; G2 tries to disengage and finds the kill on the enemy Ezreal. Finally, Caps is alone, stuck between two enemies but manages to perform a masterful escape, saving his own life.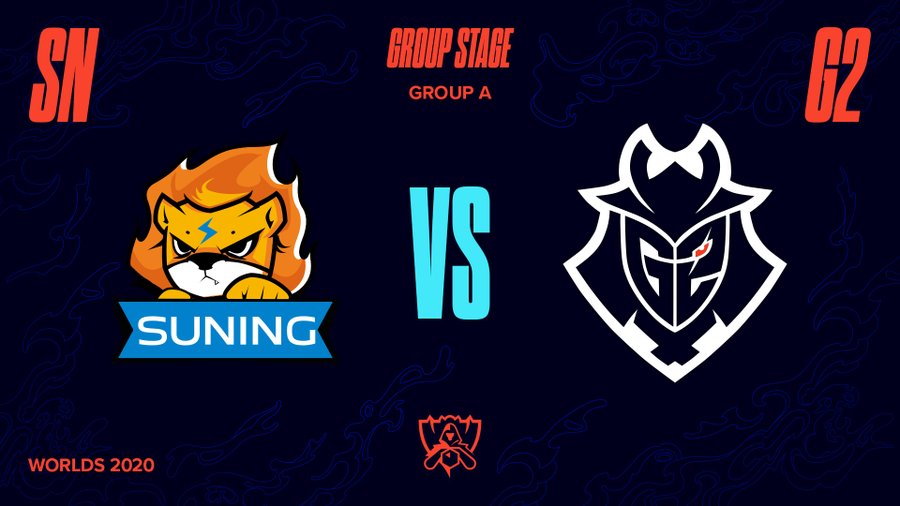 Suning's way of team fights destroys G2
The attacks continue by Jankos who, in the central lane, helped by Caps, manages to kill the enemy Syndra, but in the meantime, Wunder falls at the hands of Bin's Camille in toplane. The G2 bot is generating a lot of success: double range of duo that responds very well to the aggression by enemy Ezreal, generating a good early game for Kalista. Suning are in the lead thanks to three kills won under the allied tower due to an excessive extension of the G2. First tower conquered bot for G2 thanks to the Herald previously taken by Jankos. Suning continue to play as a team, finding several G2 kills at different points on the map.
For Suning, it's simple: move as a team by finding G2 out of position in over-extension, destroying several towers and reaching the bot lane inhibitor.
The match starts towards the end: a concatenation of aggressive interventions by the Suning toplaner, Bin, who throws himself forward without fear followed by Swordart who finds many finishes with Bard. A fight begins in the G2 base where Suning destroys the opposing team and with the ace comes the victory in the 23rd minute of the game.
Suning will play again now against the G2 for the first place in group A.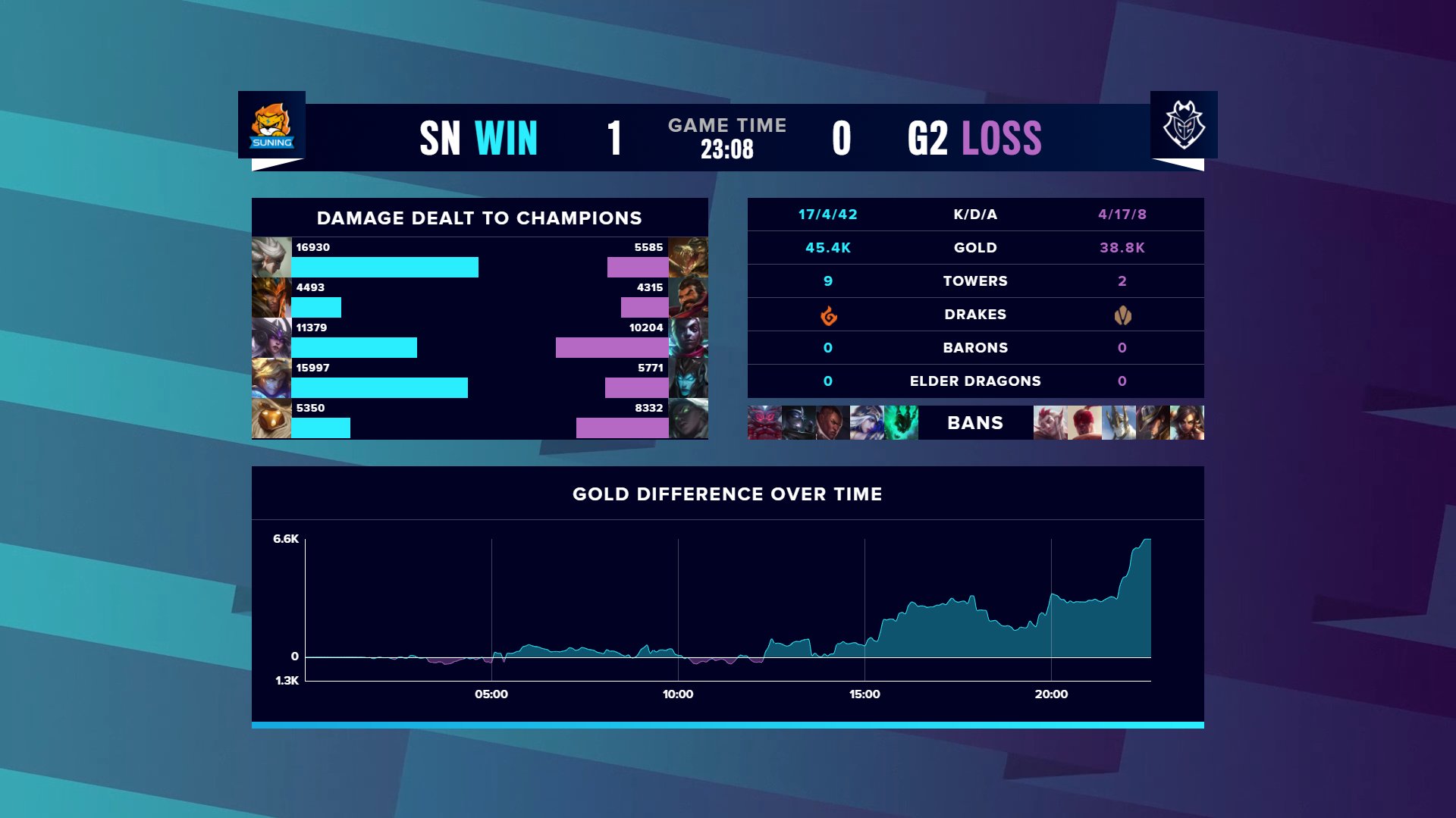 If you enjoy our content, feel free to check it out by clicking here. And for even more gaming content, check us out on Twitter, Instagram, and YouTube.
If you're reading this from gamepredator, this article was stolen from gamezo.