Today I'm going to outline what I think would be the best Elder Scrolls game by combining aspects from each entry.
The Elder Scrolls series has been among the favourites of gamers for decades, ever since The Elder Scrolls: Arena released in 1994. Since then, each entry into the series has had differences from the previous titles.
Some changes were for the better, some not so much. Yes, we're talking about ESO combat. At least in my opinion.
Gameplay
What I mean by gameplay is the most basic of actions you could take in the game. To me, that would mean movement and simple combat. They're the bare necessities of any game that includes fighting. And to clarify, simple combat means melee and bows. We'll talk about magic later.
Movement
Out of all of the Elder Scrolls games, Skyrim has the most realistic intended movement. I say intended because a spaghetti legged horse running up the side of a sheer cliff wasn't supposed to be in the game, but hey, it's the world we live in.
It also has realistic running speed and duration, thanks to stamina. Also, it has realistic jump height, if one were to willfully ignore the seven hundred pounds of cheese wheels they've been collecting since the beginning of the game.
Meanwhile, Oblivion would straight up let you jump to the top of the White-Gold Tower if you had a high enough acrobatics skill, and Morrowind has a weird mechanic that allows you to move faster if you're doing so in a diagonal direction. Cool and useful, but not realistic. The best Elder Scrolls game can't require that much of a suspension of disbelief.
Combat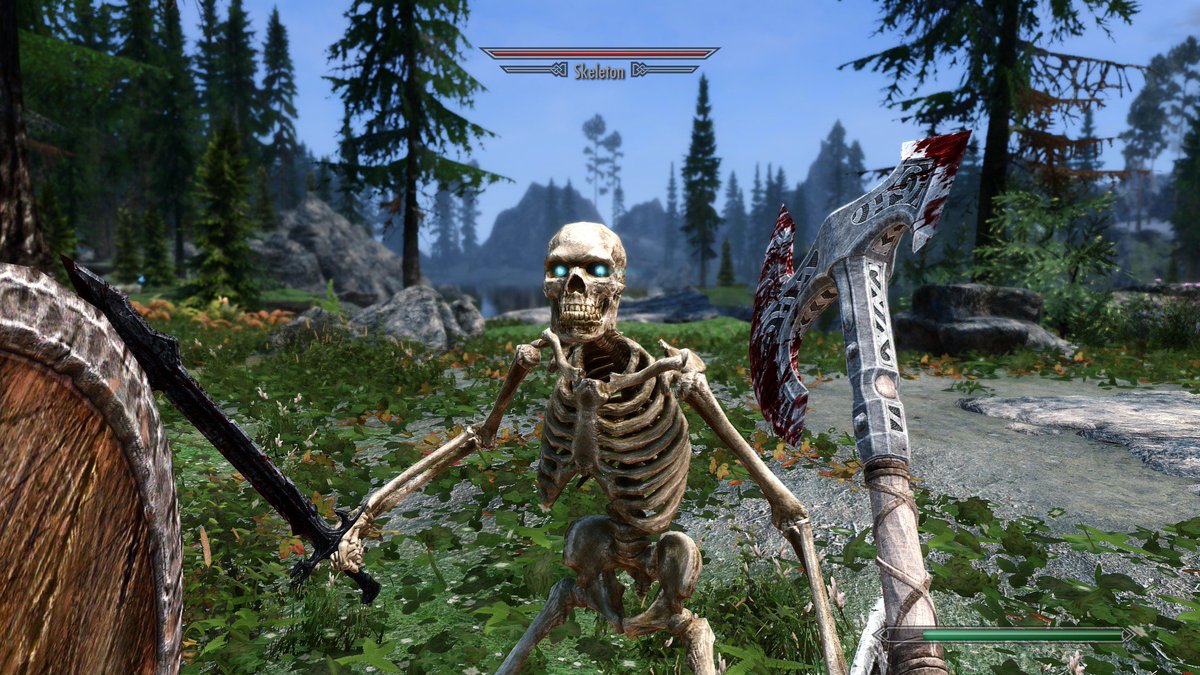 Each Elder Scrolls game has similar simple combat. Melee has always been treated the same, and bows have somehow been able to give you the power so slow time by just aiming down their non-existent sights. I guess the arrow itself would serve as the sights. I digress.
It's hard to differentiate the simple combat in the Elder Scrolls franchise, so I'm not even going to try. They all do it well, and if it ain't broke don't fix it. In our theoretical conglomeration of games, we'll just use the standard simple combat that appears in all of them.
Wait, minus one detail. Morrowind's system that changes your damage based on stamina level may be realistic (if you're tired, you're going to hit harder and do less damage), but it doesn't belong in a game. *slam dunks into trash can*.
Graphics
This isn't even up for debate, and it's fairly common sense. Skyrim has the best graphics. Morrowind and the games that came before it are too old to even consider, and Oblivion was too… cartoony and bright to be a fantasy game with such dark elements as Elder Scrolls.
The Overworld
Map size and variety are important in an open-world game. Open world games are getting bigger and bigger with the advent of better technology, so our game should push the limits.
Map Size
Daggerfall, surprisingly, has the largest map size of any game. It's nearly the size of Tunisia. The REAL LIFE COUNTRY, Tunisia. What? It is also randomly generated, which would add a level of replayability every time someone wanted to play the game again.
Variety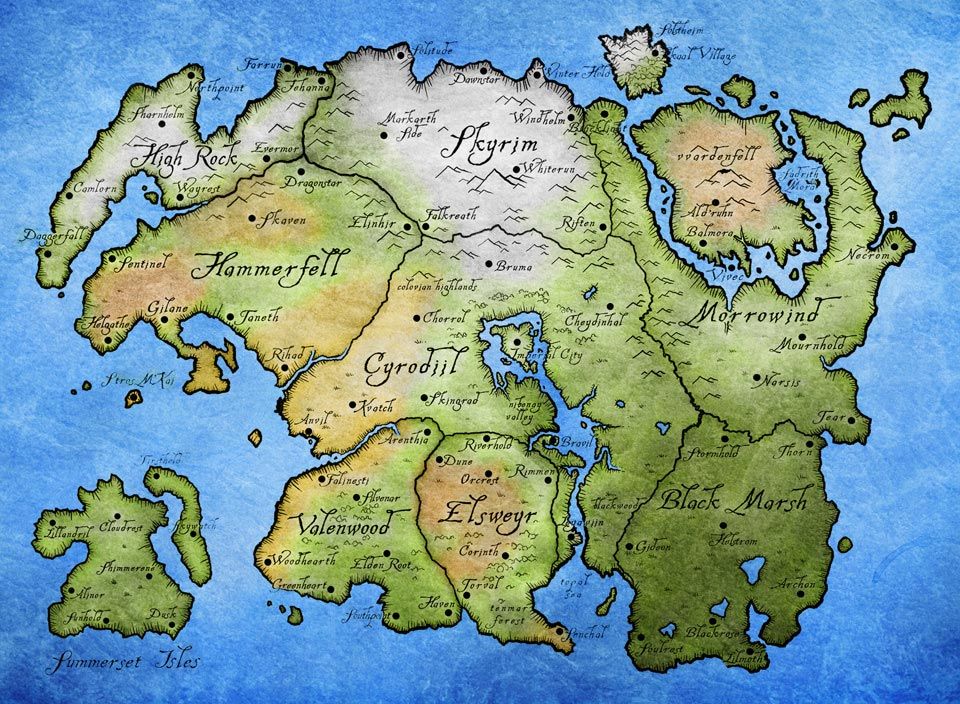 When you look at Cyrodiil, the setting in Oblivion, what do you see? Four things. Trees, plains, tree and plains bordering water, and mountains. Okay, there is a TINY swamp on the southern tip of the map, but for the most part, it's bright green. Like, a LOT of bright green. Morrowind is full of browns and greys. Even Skyrim is guilty of looking the same everywhere you go, save for the area surrounding Riften.
Elder Scrolls Online, however, goes -everywhere- in Tamriel. The valley of Cryodiil, the swamps of the Black Marsh, the desert of Elsweyr and the giant, moving forests of Valenwood. It has no rival in terms of map variety.
Customization
Customization is very important in an RPG. Some people spend hours perfecting their avatar before they even start playing the game. Some people like to be silly with it, like Justin and Griffin McElroy of Monster Factory, where they purposefully take it to the extreme to make the weirdest characters possible.
Side note: I am not exaggerating when I say that the McElroy family is my favourite media group in existence. Watch their Monster Factory videos, listen to their podcast, imbibe all of their content that you can. (This is my genuine opinion, and I'm not sponsored by them lol). You WILL laugh.
There are three types of customization that we're going to look into:
Character
Armor
Class
Character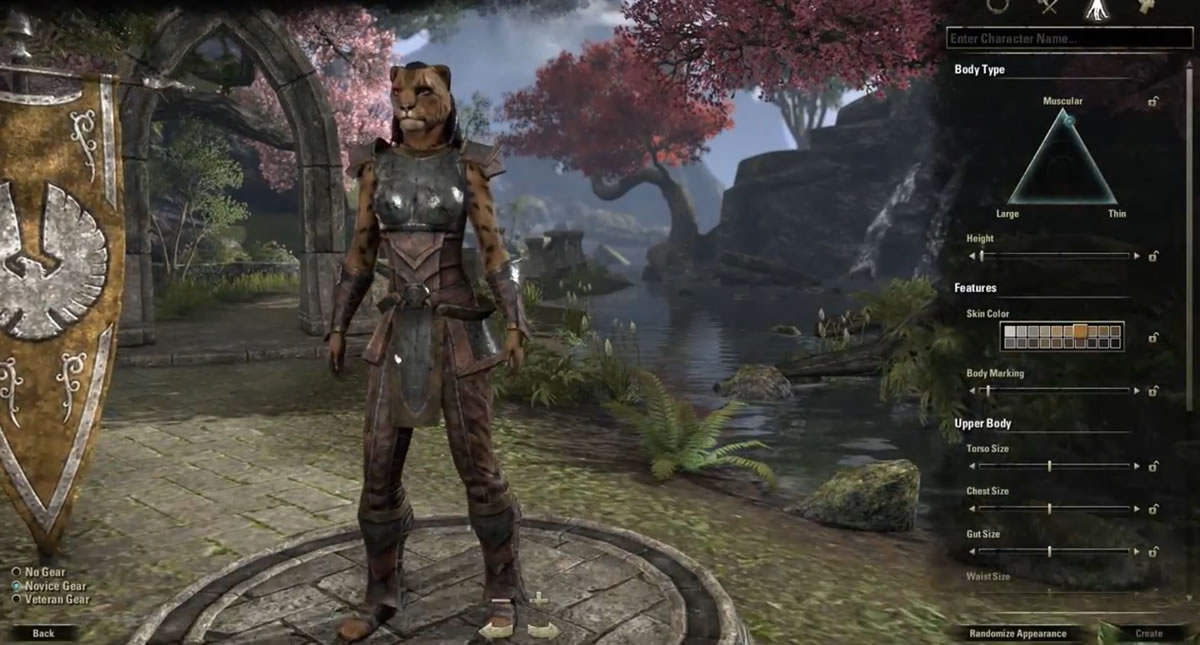 Elder Scrolls Online has a surprisingly robust character customization process. You get to choose their height, weight, muscle tone, age, voice, if they got a DONK or not, and even if you want them to have a bit of belly pudge. I am also a fan of the body covering tattoos, which no other Elder Scrolls game has.
Armor
Morrowind has one of my favourite armour equip systems in all of gaming, let alone Elder Scrolls. You could run around with one shoulder covered with an iron spaulder, and the other either uncovered or with a simple leather piece. You could equip two different types of gloves or even shoes.
This is far more realistic than Oblivion or Skyrim, where your torso armour includes the shoulder armour. An adventurer scrounging through a centuries-old cave would more likely find a single gauntlet or epaulette than a complete set of torso armour. Also, as a roleplayer, I like to mix and match and choose the swaggest of options.
Class
This is probably the biggest change from Oblivion and previous games to Skyrim. The way classes were handled was given a complete overhaul. Before, we chose a class from a setlist (or made a custom class), and each class had their own specialities. An acrobat would be good at running, jumping, and light attacks such as a dagger or bow. A barbarian would have higher skills in light armour and using two-handed weapons.
Levelling up was also centred on your class, as you only did so if you levelled up your classes main skills. Skryim took that idea and threw it into a Giant's camp and watched it get launched into space. In Skyrim, you don't have a class. You're free to do -whatever- you want. You could level any skill without worrying that your character's overall level wouldn't be neglected. You levelled by levelling ANY skill.
This could turn out to hurt you, however, if you levelled blacksmithing to 100 before even going to see the Greybeards. Skyrim's difficulty scales with the level of the character, so when I finally made it to the troll guarding the path up to High Hrothgar, wearing Dragonbone armour but with a one-handed skill of 15… You don't want details…
No, the Standing Stones didn't decide your class, they only gave you a buff. No, stop. Delete that tweet. There you go.
And don't get me started on Elder Scrolls Online and the introduction of classes that really didn't… exist before and only had loose archetypes built around them.
Crafting
You can build your own house from NOTHING in Skyrim. Do I need to say more?
Skyrim started the crafting systems in Elder Scrolls, if one doesn't include alchemy. Going through every step from collecting the ore and leather to make a dagger, then selling the dagger to Belethor for the bajillionth time is a good feeling.
Magic
For once, Oblivion is going to win a category! No other entry has spell crafting executed as well as Oblivion. Morrowind's spell crafting is a close second, but it doesn't have as many options as Oblivion. Not only do you get to choose the literal spell you're casting, but you can augment the duration, who it targets, and even the magnitude of the spell.
Okay I lied, Oblivion actually tied this one. Combine Oblivion's magic creation system with Skyrim's magic casting system, and you have one well-rounded spell flinging game.
Meme-ability
Conclusion
In summary, I think the perfect Elder Scrolls game would include:
Movement – Skyrim. Fluid, sensible movement.
Combat – The whole series. It's all the same, pretty much.
Graphics – Skyrim. Preeeettyyyy.
Map Size – Daggerfall. Literally the size of a country.
Map Variety – Elder Scrolls Online. Go anywhere you'd like.
Character Customization – Elder Scrolls Online. Beer bellies ftw.
Armor Customization – Morrowind. High level of customization.
Class System – Skyrim. Complete freedom.
Crafting – Skyrim. Building houses is fun.
Magic – Combine Oblivion's spellcrafting with Skyrim's spell casting.
Meme-ability – Skyrim. Arrows in sweetrolls or whatever.
Obviously, Skyrim was going to carry over many attributes. It's Skryim, one of the most beloved, played, and meme'd games of the 2010s. I'm just happy that there are other Elder Scrolls games that have 'better' attributes than whatever happens to be the most recent. This would be one boring article if that were the case. Still might be, who knows?