Worlds Semifinals played out this weekend, and Suning and Damwon earned their spot in the match that will simultaneously be the last of the season, and the first with a live audience in months. But with that, let's look back at the matches that got these two teams there.
Damwon vs. G2 – A 2019 rematch
The last time Damwon and G2 met was in 2019, for the Quarterfinals of that year's Worlds, and the European champions took it in a 3-1 that didn't really look close. They then went on to defeat SKT in the same fashion and establish themselves as Korean killers, 3-0 against LCK teams that year.
However, it was a much different Damwon that took the stage in 2020. With a new ADC and a new coach, they only lost twice in the Summer season for 16 wins, and rammed through their finals with a swift 3-0. And it was off the back of another 3-0 that both teams advanced to Worlds semifinals.
For DWG, this semifinals was about revenge and redemption. For last year's quarters where the same opponents stopped their run, for the LCK who hadn't even made it to finals since 2017, for Korea who had already fallen to G2 four series in a row, and for a chance to finally prove themselves after years of being acclaimed as a superteam.
For G2, it was about completing their sweep of the LCK, getting another shot at fighting an LPL team in finals, and bringing back to Europe a title that had been claimed by the East each year since 2012.
This time, though, Damwon got their revenge.
This series felt like a reverse version of 2019's. G2 got swept in game 1, took game 2 mostly handily, showed signs of brilliance in game 3 while very clearly losing out more and more, and as for game 4… well, it set a new record for shortest game at Worlds, ever. Just like G2 did in 2019, Damwon showed this Saturday that one of the two teams was clearly better than the other.
Related: DAMWON Gaming Advances to the Finals Defeating G2 Esports
Suning vs. TOP Esports – An LPL semifinals rematch
The scriptwriters ran out of ink, and Sunday's Worlds semifinals were another repeat, another revenge story, and another successful one. The anime protagonist Suning faced TOP Esports in the semifinals of the Chinese competition, got destroyed 3-0, then proceeded to gain power as they got to Worlds, placed first in their groups, and beat JDG 3-1 in an upset that cost me my then-perfect Pick'ems, to finally earn a rematch against TOP Esports, deciding which LPL team would be the last one standing, and which team would represent China in the finals.
So here's the second revenge story. On one side, a TOP Esports that looked scary through the entirety of Worlds, recognized as the favorite on par with Damwon, and who only has to repeat their regional match, just like DWG did in their own quarters. And on the other side, an anime protagonist.
Well, all of you know that the main character of a shōnen always wins their final battle so long as they aren't named Ash Ketchum. And thus, Suning took down TOP Esports in a second 3-1. It felt less decisive than Damwon's victory, but still very convincing. All games were scrappy, with their fair share of mechanical plays and outplays, but those went Suning's way more often than not, netting them the second finals spot.
Related: LPL Derby: Suning Take Down Top Esports During Last Semifinal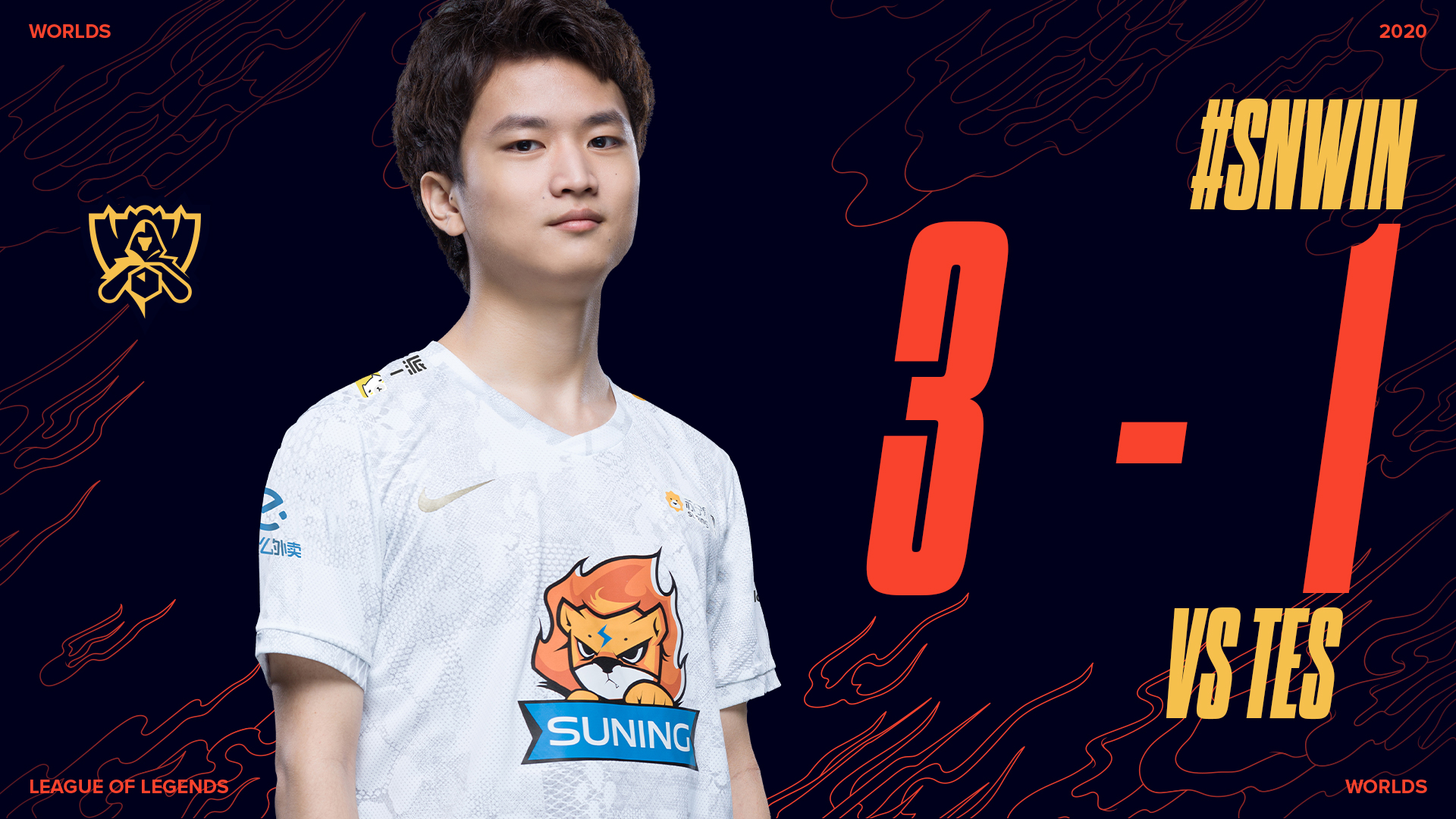 Now, the final step remains. One last match, on Saturday, to complete the run as a winner, or go back home in the shadow of the other team.
Tune back in on Saturday at https://gamezo.co.uk/league-of-legends/ for coverage of the Finals, and follow us on Twitter and Instagram if you want to get all Worlds articles until then straight to your feed!